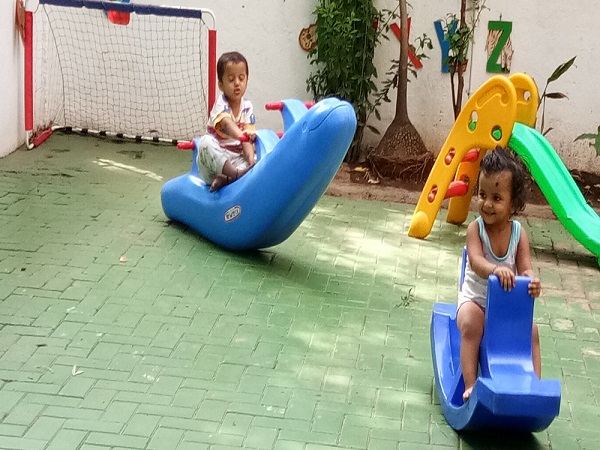 PLAY IS CHILDREN'S WORK
Jump Thru Joy, best preschool in Pune, is a strong supporter of children learning through play. Young children are learning and developing quickly. They are also beginning to get a sense of their own identity and how they may be different from others. Organised activities help develop their learning in an infomal setting.
HOW DO YOUNG CHILDREN LEARN ?
Children learn through all their senses by:
* Tasting, touching, seeing, hearing and smelling
* Watching and copying people close to them they learn language and behaviour
* Playing.
Jump Thru Joy, Top preschool and daycare in Pashan, therefore with you what it feel are the 3 top benefits of pretend play. learning through play is a term to describe how a child can learn to make sense of the world around him. Through play child can develop social and cognitive skills, mature emotionally and gain self confidence required to engage in new experience and environments. The five elements of children's play are:
1. Play must be pleasurable and enjoyable.
2. Play spontaneous and volunteer.
3. Play involves active engagement on the part of players.
4. Play involves an element of make believe.
5. Play must have a exotic goal.
TOP 3 BENEFIT OF LEARNING THROUGH PLAY
1. PLAY ENCOURAGE COMMUNICATION
Play allow children the opportunities to develop speech and language skills as well as listening skills. children talk and listen while they play. The more vocabulary a child is exposed to on a day today basis, the greater the variety of words a child will incorporate into play.
2. PLAY IMPROVES COGNITIVE DEVELOPMENT
Children who engage in pretend play tend to have more sophisticated levels of interaction with others. if the children are deprived of play, their long term capabilities related to problem solving, social skills and academic areas (e,g, literacy, math and science) could be lessened.
3.PLAY ENCOURAGE RELATIONSHIP BUILDING.
Play helps to promote the development of social skills. Children who play with their parents and peers learn how relationship work through their play experience. As play become more important in a child's life, an increase in the number and quality of friendship has been seen.
Additional benefits of learning through play shows that:
* Children whose fathers played with them had greater level of imagination and cognitive ability than those whose dads did not play with them.
*Children who played with their parents also participated in other activities, had positive mental health, stronger friendships and experienced a stronger family bond when compared to others.
*Children whose mothers played with them showed a greater level of attachment to their moms and enjoyed more positive development.
Jump Thru Joy being best preschool in Pashan and Wakad believes that the important thing is that learning is fun at this age. It need to be about doing things with them that they like. Don't push your child too hard. Children develop in their own way and in their own time.