WELCOME TO JUMP THRU JOY

Jump Thru Joy established in the year 2016 is committed to working as partners with parents on which they can relay. Jump Thru Joy accepts each child as an individual. creative expression is encouraged through classroom activities. With commitment and affection, we develop a love for learning and the desire to become lifelong archiver. Our school is a safe, nurturing, compassionate and has a learning environment. Children, parents, and teachers are mutually respected and trusted. Our professional and dedicated teachers encourage each child to be confident of his/her abilities and sensitive to the need of others. We value open communication with parents which helps reinforce what is learned at home and in school.
Jump Thru Joy provides high quality of program of care and education for children from 4* months onward. Morning Breakfast, Lunch, Fruits, Chocolate Milk and evening snacks provided. Our center is open throughout the year from 7.30 am to 8.00 pm, Monday to Friday and Saturday(on request). Jump Thru Joy also offers various activities be educational hobbies. We provide bollywood dancing, Music, Instrument, Calligraphy, Art and Craft.Abacus and many more. Jump Thru Joy also have Activity Club whole development of student is taken care. Our caring, Professional, qualified staff work in partnership with families to provide a service that places the needs of children and families as our strength as our highest priority.
This is balanced program where preschoolers grow and learn in a stimulating environment. The play based curriculum focuses on the whole child while providing opportunities for social, emotional, cognitive and physical development. Self esteem and individual growth will be emphasized in addition to focusing on the basic concepts of letters, numbers, shapes and colors through group activities and creative methods in preparation for the next level of education.

Daycare is child's second home. Daycare center should have education program that integrates movement and physical Activity with cognitive learning specially for toddlers who are in daycare from very small age. We at Jump Thru Joy follow early childhood education program for their overall development. We have age appropriate activities planned for them. We believe children are active learners.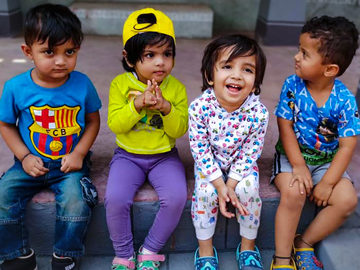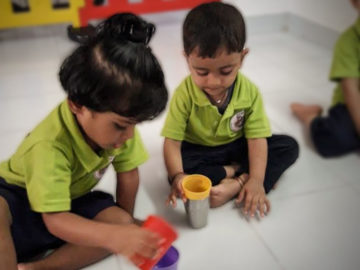 A good preschool can make a difference in a child's future school years. We offer individual programs for children to help them learn in an environment that is stress free and fun. Some learning centers our preschoolers explore are music, science, math, language arts and manipulative play. Preschool years are important years when a child's basic patterns of life are being formed. They are beginning years when a child's academic foundations are being built.
Our preschoolers curriculum includes:
Language and Literacy
Mathematics
Science and Technology
Social Studies

At this age, children are meeting new challenges as fast as they come. Crawling, walking and eventually running are levels they accomplish in what seems like a blink of an eye. Children learn best if they are in a stimulating environment. Music, stories, outdoor play, and learning simplicities envelop much of the day. Our caregivers are dedicated in helping each child develop these skills through a trusting and loving relationship. A parental daily report is given to update each family on meal times, nap times, toilet training and all activities accomplished each day.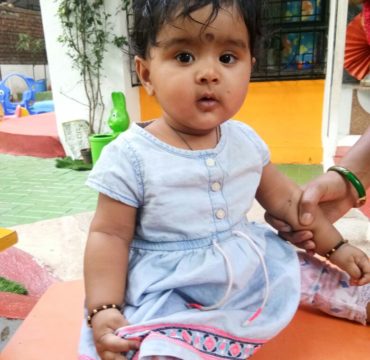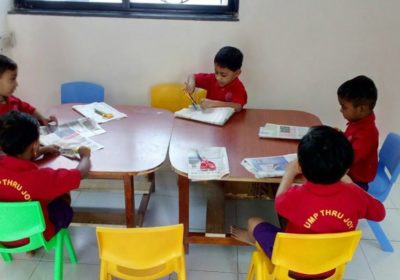 As children get older and more independent, they need new challenges. That's why we offer a school-age program for before and after school care and enrichment programs that address the changing and more varied needs of growing school-age children. Reading, math, and science activities ensure that your child's mind is engaged and help create a lifelong love of learning and exploration.

Our infant area provides the highest quality care in an environment that is designed with the parent and child in mind. While in our care, the children are stimulated through music, exercise, outdoor blanket time, facial and verbal mimicking as well as lots of hugs and tickles. Our infant room is filled with educational and age-appropriate toys and materials.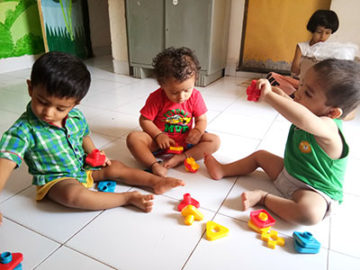 Visit Us

Pashan Branch Address
F1/ Span Residency, Behind New Poona Bakery, Pashan Sus Road, Pune – 411021
Wakad Branch Address
F1/ Span Residency, Behind New Poona Bakery, Pashan Sus Road, Pune – 411021
Call Us
Facebook Feeds